The Cross Country Relays are held at Berry Hill Park, Mansfield. View a Google Map here or see the park marked 'F' on the map below.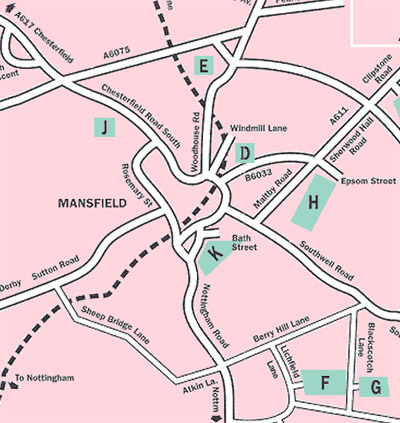 Mansfield is served by numerous main roads with the M1 nearby. If travelling from the South of Mansfield use junction 27 to come off the motorway and then the A611 for Mansfield. At the traffic lights by the College turn right into Nottingham Rd and then left into Lichfield Lane and head for the Park.
From the North come off the M1 at junction 28, then use the A38 and head towards the Town Centre. At the Sir John Cockle pub, turn right at the traffic lights and head towards Berry Hill Park along Sheepbridge Lane, Atkin Lane and Berry Hill Lane.
If travelling via the A1 from the Newark direction get on to the A617, the Southwell Rd, turn left at the Oak Tree pub and then into Berry Hill Lane.
There are road works taking place on the M1 between junctions 25 and 28 with a 50mph speed limit so please allow extra time for this.
When approaching Berry Hill Park look out for signage directing you to parking in the Park which is free of charge. Coaches will be directed to Blackscotch Lane where parking will be allowed opposite the Park.
If using a Sat Nav then the following post codes will be useful:

NG18 4JR
This is the post code of the house immediately opposite to the main entrance gate to the park on Lichfield Lane.


NG18 4JW
This is the post code of Berry Hill school which is immediately adjacent to the park gate entrance on Blackscotch Lane - near to the far end of the course at the other end of the park.