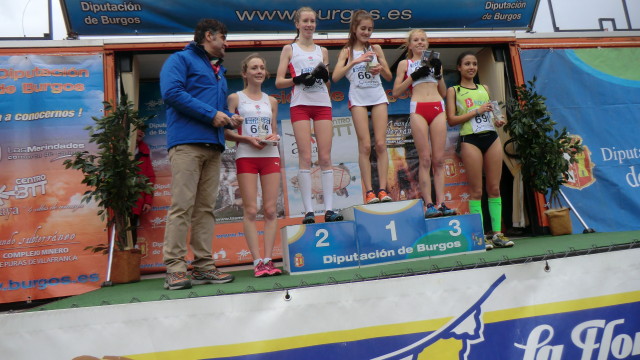 Competing in some seriously windy conditions with a chill factor of around freezing, the England runners had mixed fortunes when competing in the Cross de Atapuerca, held in Burgos, Northern Spain. The organisers with ambitions to make this one of the big early season cross country events had invited large numbers of Africans to the event and the senior runners from England faced a tough test.
Before that though the Juniors competed well against the elements and the big crowd enjoyed their exploits. The young Junior Women's team were in fine form and dominated the field 67 runners from the off, Lydia Turner looked good and raced away from the rest from the off and built up a big lead and Came home untroubled in 13.07. Behind after a scrap with the leading Spanish runner the English Women's fitness in the conditions led them to take the next 3 places with Harriet Knowles-Jones 2nd in 13.25, Jenny Nesbitt 3rd,  7 secs back in 13.32 and Tessa McCormick, 4th in 13.47. All 4 performing with great confidence against the elements.
Next up the junior men also competed strongly but performances were variable. Charlie Joslin-Allen was always in the mix and challenged strongly throughout and got as high as 5th at one stage but in the dash for the line had to settle for 7th in 18:23 a very promising performance. Behind him Elliot Bowker made up a lot of ground for 11th, 3 secs down on Charlie in 18.26, while Kieran Wood was 12th in 18.34. The quartet was made up with James McMurray finishing 24th in 19.01, it wasn't James's day and he struggled in the wind.
The classy Senior Women's race was dominated by African runners with the top 7 either Ethiopian, Kenyan or African descent and after a great tussle Belaynesh Oljira raced away from Commonwealth Games medalist Mercy Cherono to win in 25.26. Behind Lilly Partridge attempted to stay with the leaders and did so on the first lap of the twisting but flat course, eventually the the pace and wind saw Lilly come off the back and then it was a case of defending her position and she did this well coming home in 26.44 for 9th. Behind her Maryse Haynes gained good experience in finishing 16th in 27.04, while Jane potter was 17th 27.22 and Sarah Astin 23rd in 27 41.
Another big and star studied field lined up for the Senior Men's 10K with Imane Merga going for a 4th consecutive win. After a dramatic race with a number of different leaders it came down to a sprint finish with Merga snatching it on the dip ahead of his Countryman Edris Muktar both being given the same time of 27.39. The English runners  just could not match the pace up front at any stage and had a domestic battle among themselves down in the 20s. Eventually Jonathan Taylor found the strength to win this battle finishing 21st in 29.27, with Adam Hickey 22nd, 5 secs back, while Jonny Hay an organisers invite was back in 23rd a further 4 secs back. Richard Goodman completed the England representation finishing 32nd in 30.07. Jonathan Davis had been selected to compete but dropped out the day before departure to Spain with a knee injury.
With under 2 week to go to the European trials athletes gained a good idea fitness wise where they are at present after competing in a top class event.
Ian Byett