The Home Countries Cross Country international held this year at the Greenmount campus, Antrim, Northern Ireland saw the England teams in fine form in this, the last of the season's cross country events. The England selection policy meant that runners that didn't go to the World Cross (in some cases narrowly missing selection), got the opportunity to represent England and the junior men and women's teams were the strongest possible. The senior women's squad was a very strong one but Eamonn Martin had considerable difficulties putting together a Senior Men's Team with 10 athletes turning down the opportunity for various reasons before a four man squad was put together. However, this did give an athlete the chance to win a England vest at the age of 32 having only run his first Cross Country last November.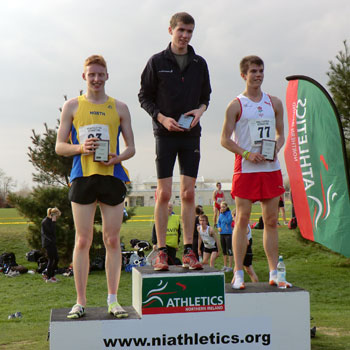 The junior women were first off, and on a fine dry afternoon
Hannah Walker
led the field virtually from the off and was never really headed. In the early stages she had
Sarah Inglis
of Scotland to push her a little but
Walker
came away strongly to win in 18m 58s. Behind,
Grace Nicholls
put in a strong challenge over the closing stages to place 2nd in 19m 08s while
Jennifer Walsh
came in 4th in 19m 46s to complete the scoring. England's other representative
Eleanor Wimshurst
finished 6th in 20m 07s. With 7 points, England were well clear of Scotland who were second with 17 points.
Andrew Combs led the junior men to another victory but had to concede the gold medal after a good battle to Matthew Gillespie of Scotland. Gillespie was in superb form and over the last part of the course around the superb college grounds ran away from the field to win in 22m 36s, Combs finished 2nd in 23m 00s while Paul Thompson was 4th in 23m 09s. Jack Goodwin placed 5th with 23m 16s, and England won this time with a 11 point score. Harvey Dixon – still an under 17, made up the quartet with an impressive 9th place in 23m 29s.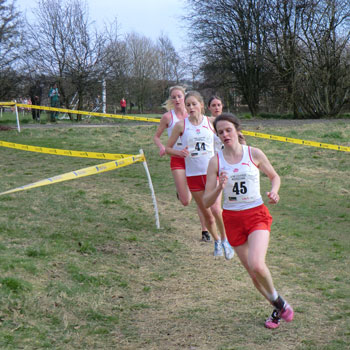 The English senior women dominated their race; recording the top 4 placings in fine form. Initially, Sarah Tunstall, representing the north of England, led the runners through on the first lap but all the England athletes quickly established themselves with Juliet Doyle eventually coming home first in 25m 47s. A strong finishing Emily Wicks was 8 seconds down with Faye Fullerton a further 3 seconds back, fourth home was Laura Parker in 26m 24s and England with a minimum total of 6 points won from a Midlands team.
Conditions were a lot cooler when the senior men set off for their six lap, 10.8K race and it was Ulster athlete Stephen Scullion who shot in to the lead and took the field through the early laps. With England's Jonathan Pepper and Adam Hickey giving him company the local man was not able to dominate the entire race. Eventually a trio of Pepper, Andy Miles (representing the north of England) and Hickey went away from the rest of the field. With a lap and a half of the course to go Pepper gained a vital gap on Miles and finished strongly in 34m 12s. Hickey placed 3rd in 34m 37s while Steven Naylor battled through to finish 6th with 34m 31s. James Ellis struggling with a knee problem finished the scoring in 18th place.
For Naylor, this position finished off a great season and his rise has been nothing short of meteoric. Having taken up road running only a year or two ago, Naylor in fact first raced cross country on the 7th November 2010 and proceeded to win his first 4 races – including the Oxfordshire Championship. After ploughing through the mud at Alton Towers to finish 49th, he then finished 22nd in the Inter Counties to gain selection for England in the Home Countries, where as third scorer he gave England the team title in only his ninth ever cross country race.
Ian Byett
Hon. Sec.