Mahamed Mahamed and Jess Gibbon took the senior crowns as the English National Cross Country Championships made a long awaited return on a mild, sunny day at Parliament Hill yesterday.
With last year's event cancelled due to the pandemic, normal service was resumed in the historic event, held on a muddy course that was typical of what we have come to expect at the "home of cross country".
Gibbon crossed the line four seconds clear in the 89th senior women's championships race after edging away from a leading group of three on the second lap of two in the 8km contest.
The Reading AC athlete, who added to her Southern Championships win in January and stepped up from her fourth two years ago, clocked 29:00.
She said afterwards: "I'm actually quite pleasantly surprised to win it because generally I don't like hills and mud very much… I was worried I had gone too early but I managed to just hold on to it. I could hear Eleanor on my shoulder pretty much until that last stage stretch so I was a bit nervous."
Ribble Valley's Eleanor Bolton, who was 26th in the European Cross, was next to finish. Bronwen Owen, who won the under-15 age group at the National in 2011, was third in 29:23 as she led Leeds City AC to the team title.
Mahamed was already trying to edge clear in the first couple of kilometres but, after the first lap of three in the 12km event, he was still together with brother Zak, Ilford's Ahmed Abdulle and Matlock's Daniel Haworth.
During the second lap, the eventual winner moved around 15 seconds clear as Leeds' Emile Cairess was now the chaser, himself a similar distance in front of Zak Mahamed.
Cairess, who last month equaled Mo Farah's British 10km road record with 27:44, finished well but it was Mahamed who emphatically won. Crossing the line15 seconds in front in 40:52, he regained the title he won in 2018 and 2019 with Cairess second on both occasions then too.
Kent AC's Alex Yee, an Olympic gold and silver medallist in triathlon last year, was third in 42:04. He moved rapidly through the field at the end after suffering a reported asthma attack early on. With Zak fourth, the Mahamed duo helped Southampton to the team gold medals.
A lot has happened in the last two years but Will Barnicoat is still National under-20 champion. The Aldershot, Farnham & District athlete, who was ninth at the Euro Cross in December, defended his title over the 10km course in a time of 32:51. For Barnicoat, who also led his club to team honours, it was the fourth time in a row he had made the podium as he gained two consecutive silvers before that as an under-17. David Stone of Shaftesbury Barnet Harriers was second in 33:02 and Matthew Stonier was third with 33:10.
In the junior women's 6km, Alexandra Millard stepped up from 19th two years ago to become the most dominant winner here. However, it wasn't until the third kilometre that she started to break up the leading pack of three. The Invicta East Kent athlete's second half surge gave her a time of 24:23 and moved her 37 seconds in front of Hercules Wimbledon's Ellen Weir. Basildon AC's Megan Harris was third with 25:06. Aldershot, Farnham & District were comfortable team winners.
Jess Bailey added the National to the Northern under-17 title she won earlier this winter, covering the 5km in 19:20. The Leven Valley athlete was one of a group of four who had slightly moved away in the first mile. Then it was down to her and Cheltenham & County's Kiya Dee, who exchanged the lead briefly, before Bailey eased away in the fourth kilometre to come home 11 seconds clear. North Norfolk Harrier Hattie Reynolds eventually came past Dee for silver with a three-second margin. Vale Royal took a narrow team win.
Exeter Harrier Sam Mills came home to a clear under-17 victory, crossing the line after 6km of running in 21:14. The athlete who had a previous best of eighth in the National in 2018 as an under-13 moved quickly clear of the field in the second kilometre and stretched away for a 19-second margin of victory over Cambridge & Coleridge's Isaac Morris. Chorley's Jacob Deacon was third in 21:39. South London Harriers gained team golds.
Robert Price led from start to finish in the under-15 boys' 5km race. The Vale Royal athlete stretched out the field from the beginning en route to a 22-second win in 14:15. Alden Collier, who won the under-13 race two years ago in which Price was 17th, won silver as he helped Chiltern Harriers to the team title. Team Bath AC's Harry Maxwell took bronze in 14:43.
In the girls' equivalent, which was over 4km, Rotherham's Isabella Waugh stepped up from sixth as an under-13 two years ago to take gold in 16:11. She was stretching out the field from about the 1km mark and gradually eased out an 11-second margin over City of York's Lottie Langan. Rotherham had a bronze medallist too in Lilia Harris (16:34) but narrowly lost out to Wreake & Soar Valley in the team stakes.
Katie Webb won a tightly contested under-13 girls' 4km in 12:38 as she also led Milton Keynes to team golds. Five or six athletes were still in contention after 2.5km but by early in the last kilometre, the eventual winner had stretched away with only Brighton Phoenix's Katherine Haslip chasing. It was Webb who then led the constant battle to the line, with just a second in it at the end. Aldershot, Farnham & District's Kitty Scott was third in 12:47.
In the under-13 boys' 3km, Windsor, Slough, Eton & Hounslow's Jake Meyburgh was at the front up the opening hill and by the first kilometre was already stretching out the field. By the finish, which he reached in 11:06, he was 11 seconds clear of Hallamshire Harrier Thomas Thake. Wolverhampton & Bilton's Fred Jones was another four seconds behind in third. Trafford AC took a comfortable team win.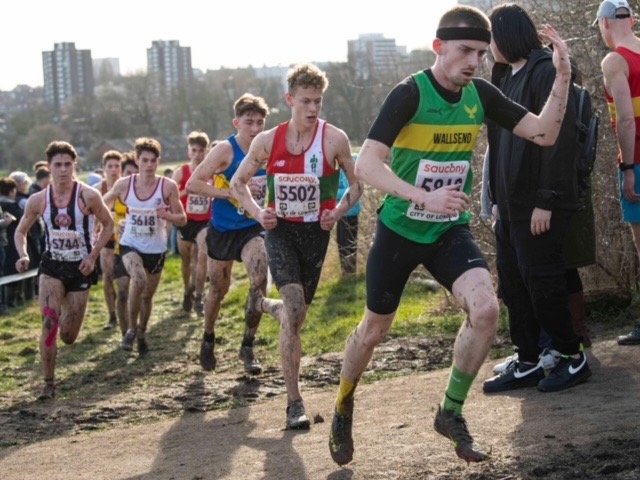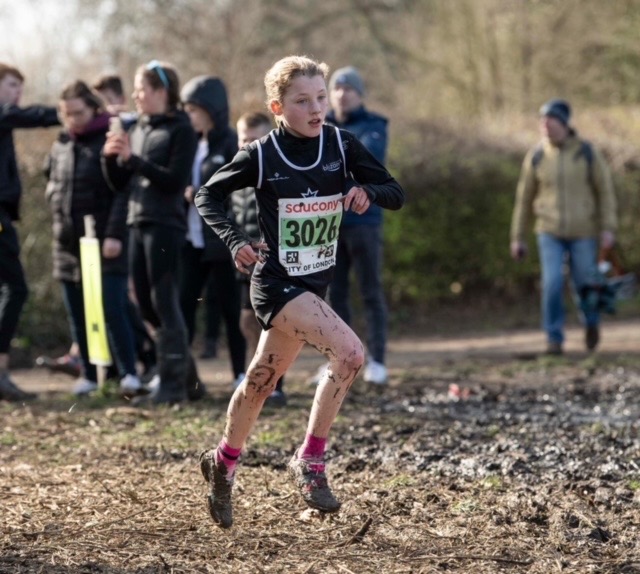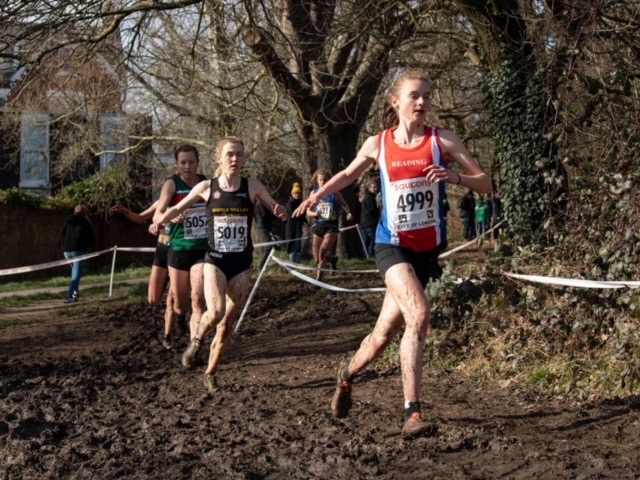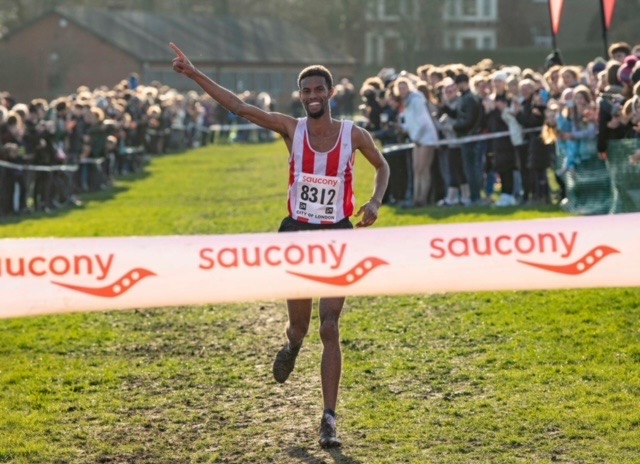 1 Will Barnicoat the winner of the JM race in second after lap 1
2 Isabella Waugh leads the U15G race.
3 Jess Gibbon the winner leads in the SW race.
4 Mahamed Mahamed wins the SM race.
Photos courtesy of Gary Mitchell